Works than have been done in social responsibility area
Comfort Town - Neighborhood Day
The Comfort neighborgood Day celebration was held on 3 June 2018 for the first time on Comfort town and it was introduced to residents who live in a town with a warm welcome. During the event the engineers and technical staff of "Monon Construction" LLC provided advice on the use of the apartment services. The designers of "EGE" LLC provided free consultation on how to properly repair the apartment and design.
Mandala Town - Neighborhood Day
The Mandala Town successfully organized the Neighborhood Day on May 13, 2018.
As a result of a neighboring day, the neighbors enjoy a day of fun and know their neighbors, as well as to prevent any foreigners from entering the city or threaten their neighbors to inform the security office. It also facilitates exchange of things that you need, facilitating your children's activities, and creating new friends and friends.
The new Eco-Friendly kindergarten opening ceremony was held in Zamiin-Uud soum, Dornogovi province
Moncon Construction LLC has handed over new 50 children eco-friendly kindergarten building which was funded by United States Pacific Command under Mongolian and United States intergovernmental bilateral agreement of " Agreement concerning economic, technical and related assistance".
Ribbon-cutting ceremony to open new kindergarten was held in Zamiin-Uud and participated by US ambassador Jennifer Zimdahl Galt; State Secretary of Ministry of Education, Bolormaa.J; Dornogovi Provincial Governor Enkhtuvshin.T; Zamiin-Uud town Governor Aldarbayar.N; CEO of Moncon Construction LLC Darkhanbaatar.Ch and among others on October 19th at 12:00.
Main feature of this building is which was designed with high energy efficiency standards; a heat recovery ventilator; a US standard air circulation system; high quality heat insulation kin the walls; a sealed building envelope and an energy metering system. It can withstand extreme cold weather, retain heat, minimize electrical energy loss, and allow for clean and breathable air indoors all year.
It was great review for us that all guests including US ambassador, client organization, children, teachers and local governors had been expressing their satisfaction for us during this ceremony. As a contractor, we would like to thank the all parties who cooperated to build this brand new kindergarten building project including our company's engineers and technicians, material suppliers, subcontractor companies and the U.S army Corps of Engineers in Alaska which believed and chose us to build this building.
On behalf of employees of Moncon group LLC, we wishes great success to all little children and their teachers for their study.
The "Painters' Neighborhood" of the Mandala Town
The event was organized for the residents of Mandala Town to be a family-friendly day and to enjoy the music and art of drawing and to meet the neighbors in a friendly atmosphere.
The event was attended by more than 80 residents with their families, and all have their own artworks.
The opening ceremony of the 73rd school of Bayangol district of Ulaanbaatar city was held
The opening ceremony of 73rd school of Ulaanbaatar city was held on September 15, 2017 which constructed by Moncon Construction LLC under order of Mongolian Ministry of Education, Culture, Science and Sports and National Development Authority.
For this event following representatives attended:
Mongolian Parliament member Erdene.S
Mongolian Parliament member Undraa.A
Ulaanbaatar city mayor Batbold.S
Head of Investment department of MECSS Nansalmaa.N
Head of Government implementation agency of National Development Authority Bayarsaikhan.B
Head of Capital Investment Department Ariunbaatar.Ts
Member of the Citizens' Representative Khural of the capital city Narantuya.L
Governor of the Bayangol district Odontuya.S
Director of Foreland realty network Japan Takahisa Nakao
Executive director of Foreland realty network Tsutomu Kise and teachers, employees, parents representatives and students of School 73 and employees of Moncon Construction LLC and Moncon Group LLC.
On behalf of employees of Moncon Construction LLC we would like to wish all the bests for the students and teachers of School 73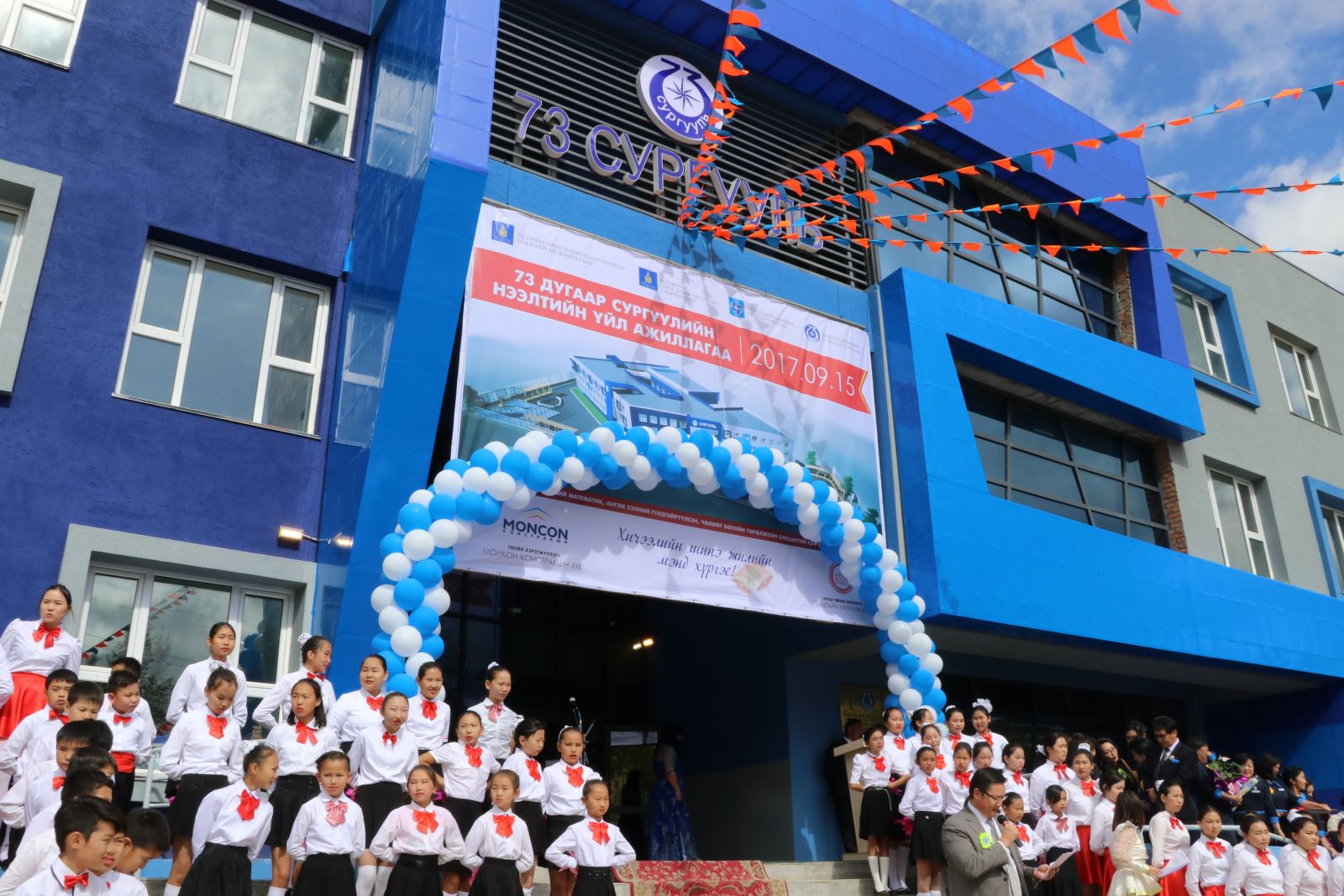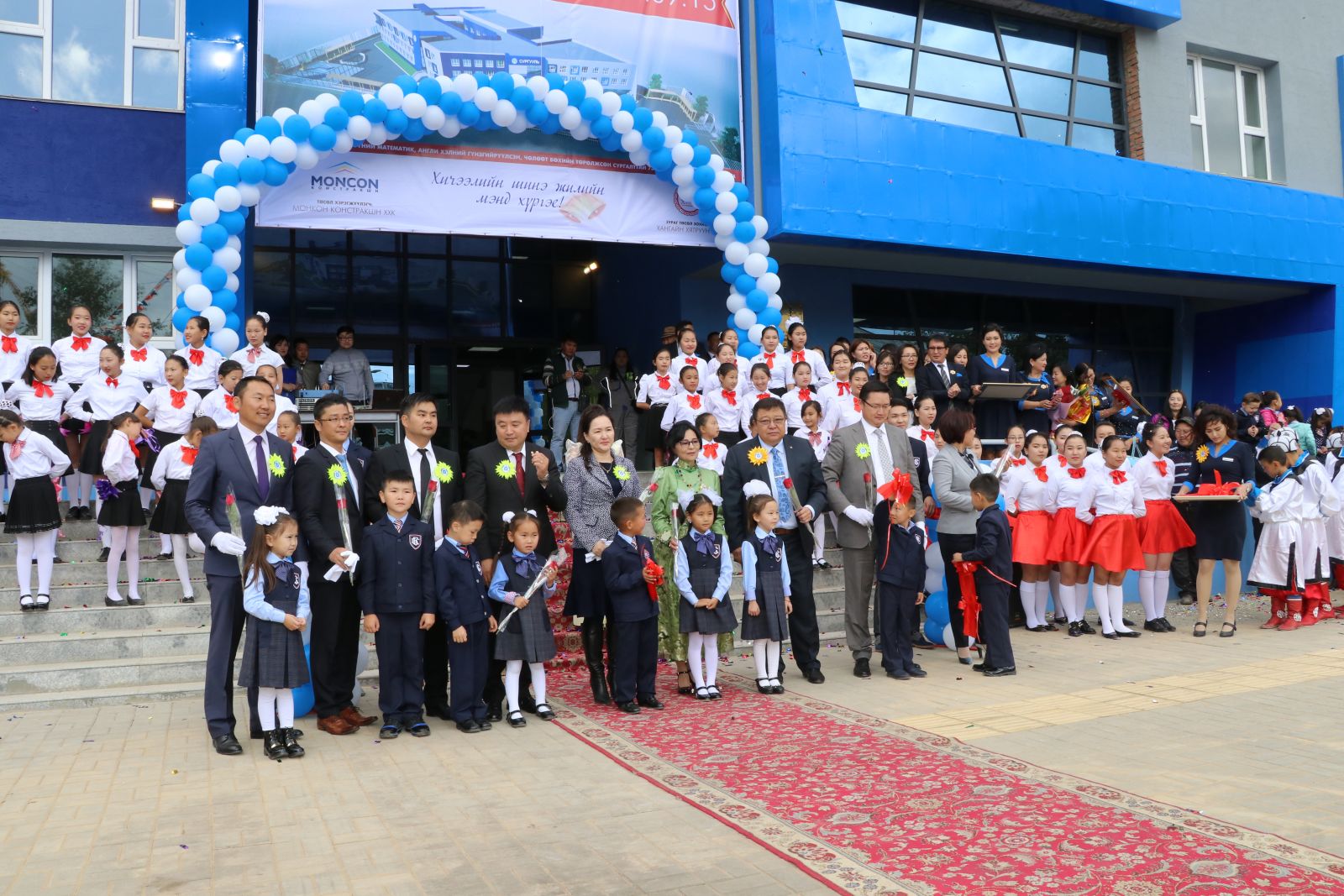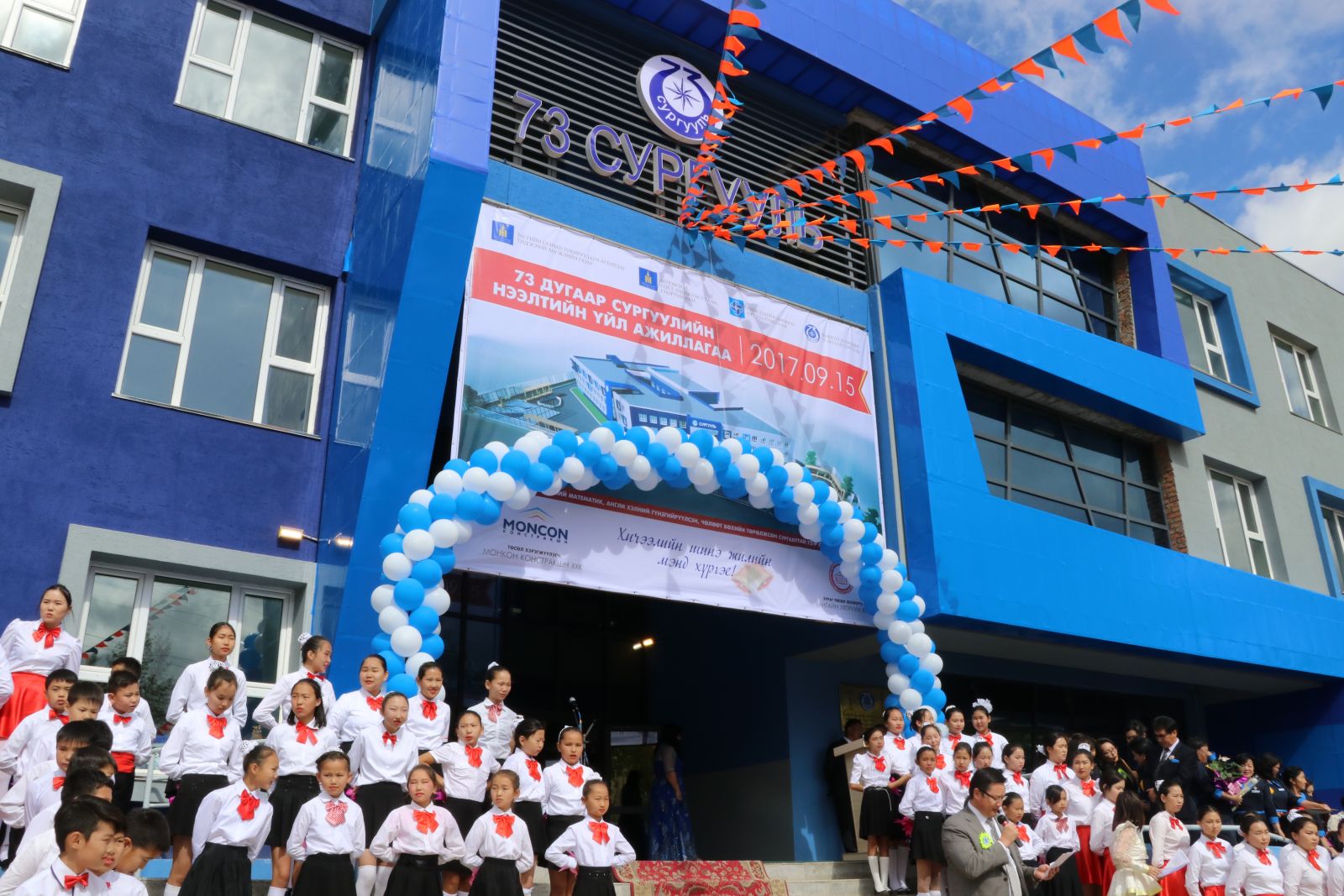 Mandala town delighted it's little residents
To the 1st and 2nd phase costumers, Mandala town gave a gift to their children, and one day they enjoyed fun in the outdoor area of Mandala.
In addition, a comprehensive set of drawing tools was provided as a gift to support creative thinking of children with disabilities.
Thus, the small inhabitants of the Mandala town celebrated the Mother's Day with their neighbors.